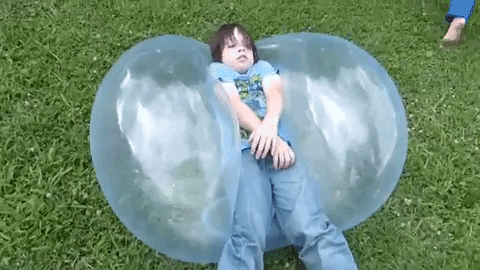 We are happy to offer you an exciting way to bond with your family and friends. Introducing the BOUNCY BUBBLE BALL.
Bouncy Bubble Ball is an INCREDIBLE BUBBLE BALL that is SPECIALLY DESIGNED to PROVIDE an EXCITING INTERACTIVE GAME for everyone. It is SUPER FLEXIBLE and BOUNCY that you can KICK, PUNCH, DRIBBLE, THROW, SPIN, FLOAT and DO CRAZY THINGS with it WITHOUT WORRYING GETTING POP as it is made of HIGH-QUALITY MATERIALS making it DURABLE and STURDY.
Bouncy Bubble Ball can be FILLED with WATER or AIR. It is IDEAL for ALL AGES. It is SAFE to use as it is LATEX-FREE and BPA FREE. It COMES in DIFFERENT COLORS and SIZES. It is PERFECT for INDOOR, OUTDOOR, and WATER PLAYING and ACTIVITIES.
SPECIFICATION:
Materials: TPR
Colour: Blue, Pink, Yellow, Orange, Green, Purple
Weight: Small(30g), Medium(45g), Large(80g)
Blowing Diameter: Small(40

cm)

, Medium(60cm), Large(80cm)
PACKAGE INCLUDES:
1pc x Amazing Bubble Ball