To have a perfect brows you have to go through several processes to achieve it. It will take different products and make up tools. We do not want you to experience the hassle as we are happy to introduce you the very convenient ALL-IN-ONE BROW PEN.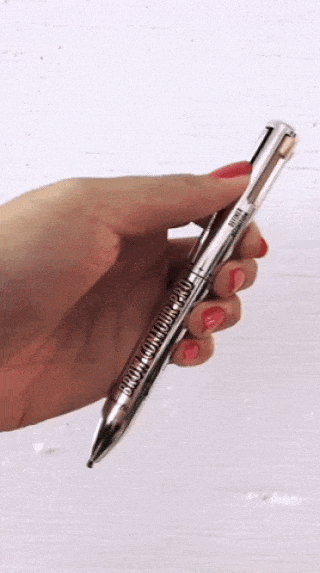 All-in-One Brow Pen is an INNOVATIVE 4 -in-1 CLICK PEN that PROVIDES ALL the MAKEUP you will be needing to achieve a PERFECT BROWS. It FEATURES a LIGHT and DARK BROW SHADE, EDGE DEFINER and ARCH HIGHLIGHTER. It can EFFECTIVELY and EFFORTLESSLY HELP you CLEAN, SHAPE, and COUNTOUR and HIGHLIGHT your BROWS with just ON CLICK and TWIST.
All-in-One Brow Pen is FORMULATED with PREMIUM FORMULA making it BLENDABLE, HIGHLY PIGMENTED, SAFE to SKIN and NON-SMUDGY. It is VERY LIGHTWEIGHT, WATERPROOF and LONG-LASTING. It is IDEAL for Travelling, On the go Ladies, Parties, and more. It is PERFECT for ALL BROW SHAPE and SIZES. It is VERY EASY and CONVENIENT to USE. It has DIFFERENT SHADES that PERFECTLY SUITS your BROW, HAIR and SKIN COLOR.
SPECIFICATIONS:
Weight:22.5g
Shelf Life:3 years
Color:3 color(optional) Black Brown | Blonde | Medium Brown
PACKAGE INCLUDES:
1 x All-in-One Brow Pen